Finding a suitable credit card processor for your restaurant can be a challenge. With so many options on the market, making the right choice needs careful research and consideration. 
That's where this blog comes in handy, offering an in-depth view of top payment processors that restaurants should consider. Now, let's dive into finding your perfect match!
Dojo: Best Overall Restaurant Payment Processor
Credit & debit rate: 1.4% + 5p
Terminal fee: £20/mo
TakePayments: Best for Small Restaurants
Setup fee: £0
Transaction fee: Personalised
Stripe: Ideal for Seamless Online Orders and Delivery Services
Online transactions: 2.9% + 30p

In-person transactions: 2.7% +5p

Keyed-in transactions: 3.4% +30p
Square Payments: Best for Effortless Setup in Small and Startup Restaurants
Online transactions: 2.9% + 30p

In-person transactions: 2.6% +10p

Keyed-in transactions: 3.5% +15p
SumUp: Best for Seamless Invoicing
All card reader transactions are subject to a standard fee of 1.69%.
Wordline: Best for Small and Startup Restaurants
Details must be acquired directly from the company.
Top Credit Card Processing Services for Restaurants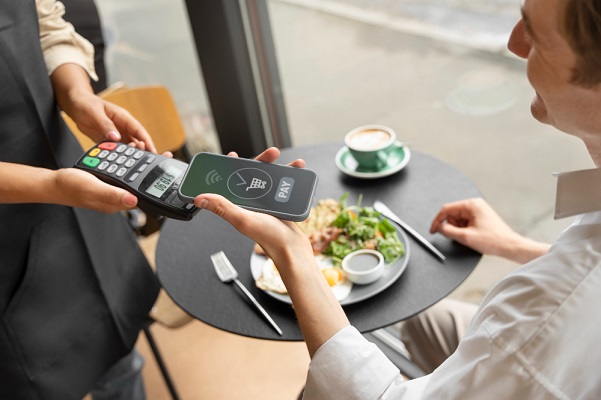 Dojo is the best overall restaurant credit card processor entering a crowded market. It offers three subscription types designed to fit any size operation, from small start-ups to busy eateries.
For restaurants centering their business model on online food orders and deliveries, TakePayments excels with its tailored solutions.
Square Payments takes the cake for well-established smaller restaurants thanks to its competitive rates. Midsize and full-service establishments find excellent value in Stripe's offerings that blend affordability with comprehensive features.
The most accessible setup crown goes to Worldline, perfect for small or newly opened restaurants needing straightforward systems.
Lastly, SumUp shines in sectors like catering services, where invoicing is common. With an emphasis on fraud prevention and flexible payment plans, it provides a robust solution for this niche segment of the restaurant industry.
All these processors bring unique advantages to different aspects of restaurant operations, providing owners with much-needed options for managing transactions effectively while keeping costs within check.
Dojo: Best Overall Restaurant Payment Processor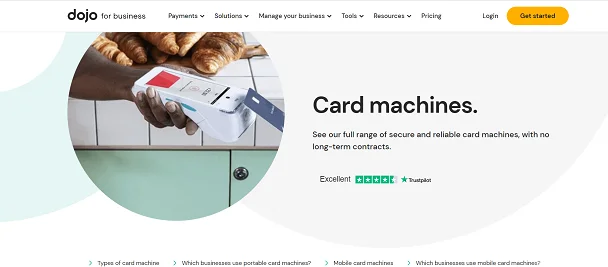 The Dojo card reader stands out for its speed, efficiency, and security blend, making it an ideal match for restaurants that aim to provide exceptional service.
Overview & Benefits of Dojo
In the UK's dynamic and ever-evolving hospitality sector, the Dojo card reader has rapidly gained recognition as a standout choice for restaurants seeking to streamline payment processes. This modern payment solution is tailored to meet the unique demands of the restaurant industry, combining cutting-edge technology with user-centric design. 
Its growing popularity among UK restaurateurs can be attributed to its ability to facilitate quick, secure, and versatile payment transactions, a necessity in the fast-paced world of dining and hospitality.
Designed with the needs of busy restaurants in mind, it supports a variety of payment methods, including contactless, chip PIN, and magnetic stripe cards, ensuring that every customer's preference is catered to. This inclusivity in payment options is crucial in today's diverse and technology-driven market.
Features
Speed and Efficiency: Dojo card readers are designed for quick transaction processing.
Compatibility with Various Card Types: These readers can handle various card types, including contactless cards, chip PINs, and magnetic stripe cards. 
Integration with POS Systems: Dojo card readers are known for their compatibility with various point-of-sale (POS) systems. 
Security: Security is a paramount feature, with Dojo providing compliance with the latest PCI DSS standards.
Portability: The portable nature of Dojo card readers makes them suitable for various restaurant layouts, allowing payments to be taken directly at the table.
Connectivity: These readers offer robust connectivity options, including Wi-Fi and mobile data, ensuring reliable service even in areas with poor internet connection.
Dojo Pricing & Card Readers
There is no cost attributable to the Dojo card readers. The starting price is  £0. The processing fees are charged at a rate of 1.4% + £0.05 per transaction.
Pros
User-Friendly: The simplicity and intuitive design make it easy for restaurant staff to use the device.

Fast Transactions

High Security: Adherence to security standards

Versatile Payment Options: Acceptance of various payment methods caters to a broader customer base.

Seamless POS system integration aids in efficient restaurant management.
Cons
Dependence on Connectivity

Hardware Limitations

Some staff may need help adapting to new technology, requiring practical training.
TakePayments: Best for Online Orders and Delivery Services
TakePayments card reader offers a comprehensive solution for UK businesses engaged in online ordering and delivery services.
Overview & Benefits of TakePayments
TakePayments was a notable player in the UK market, offering card reader solutions tailored for businesses, including those focusing on online ordering and delivery services.
Its ability to handle various payment methods securely and efficiently, with its portability and ease of integration, makes it a strong contender in the market. However, businesses should consider the costs and potential dependency on connectivity when opting for this solution. 
Overall, for businesses aiming to enhance their payment processing capabilities in a digital and mobile environment, TakePayments presents a compelling option.
Features
Ease of Integration: TakePayments card readers are designed to integrate seamlessly with online ordering systems, making them ideal for businesses that manage online orders and deliveries.
Mobile and Contactless Payments: The readers support mobile payments like Apple Pay and Google Pay, as well as contactless card payments, catering to the growing demand for quick and touch-free transactions.
Security: TakePayments ensures high-security standards, complying with PCI DSS regulations. This is crucial for protecting customer data during online transactions.
Portability: The card readers are portable and lightweight, making them suitable for delivery services where payments are often processed at the customer's doorstep.
Versatility: They can handle a variety of payment methods, including chip and PIN, contactless, and magnetic stripe cards, ensuring flexibility for customers.
Connectivity: Good connectivity options, including Wi-Fi and mobile data, are essential for delivery services where transactions are processed in various locations.
TakePayments Pricing & Card Reader
TakePayments offers a rental card reader, with the processing fees being 1% per transaction. 
Pros
Convenience for Customers: The ability to accept multiple forms of payment makes it convenient for customers, enhancing their overall experience.
Enhanced Cash Flow: Quick payment processing can improve business cash flow, an essential factor for small and medium enterprises.
Security and Compliance: Adherence to security standards helps build customer trust and protect against fraud.
Ease of Use: The user-friendly interface requires minimal staff training.
Cons
Dependence on Connectivity: Transactions can be disrupted if there are internet or mobile data connectivity issues.
Technical Issues: As with any technological solution, there can be occasional technical glitches or the need for software updates.
Contractual Obligations: Businesses must be aware of any long-term contracts or commitments that TakePayments requires.
Stripe: Best for Online Orders and Delivery Services
Stripe is a top credit card processing service for restaurants, particularly suited for online orders and delivery services.
Overview & Benefits of Stripe
Stripe is the top credit card processor for restaurants focusing on online food ordering, delivery services, and ghost kitchens. One of the significant advantages of Stripe is that it offers a free merchant account, allowing restaurants to accept customer payments easily.
Additionally, Stripe is highly integratable with popular restaurant EPOS systems, making it convenient for restaurant owners to manage their transactions seamlessly. Moreover, Stripe provides 24/7 support to assist restaurants with any issues or inquiries.
For added security, Stripe's machine learning system called Radar helps detect false accounts and prevent fraudulent activities. Overall, Stripe offers a reliable and efficient payment processing solution for restaurants looking to enhance online operations while keeping transaction costs in check.
Stripe Pricing & Card Reader
Stripe offers competitive restaurant pricing options, making it an attractive choice for many businesses. Here are the critical aspects of Stripe's pricing and its card reader:
Competitive Pricing: Stripe offers restaurant owners a transparent and competitive pricing structure. They charge a flat rate per transaction with no hidden fees or additional costs.
No Monthly Fees: One of the advantages of using Stripe is that there are no monthly fees or subscription charges. This allows restaurants to save money and only pay for the transactions they process.
Customized Card Reader: Stripe provides a versatile card reader that can be customized to fit your restaurant's needs. Whether you need a countertop terminal or a mobile card reader, Stripe has you covered.
Easy Integration: With Stripe, integrating their payment processing system into your existing ePOS system or website is seamless. They offer APIs with excellent documentation and 24/7 support, making it easy to set up and maintain.
Fraud Prevention: Stripe takes fraud prevention seriously. Their advanced machine learning algorithms, including the "Stripe Radar" feature, help detect false accounts and prevent fraudulent transactions.
Free Merchant Account: One standout feature of Stripe is that they offer a free merchant account, saving restaurants from additional costs associated with setting up an account.
Pros
Stripe is ideal for online orders and delivery services, helping streamline the payment process for these business models.

Stripe offers 24/7 support, ensuring restaurant owners can get assistance whenever needed.

With easy integration with over 1,000 programs, Stripe makes it easy to sync your payment processing with other parts of your business.

Stripe's APIs have excellent documentation, further simplifying the process of integration.

Stripe Radar uses machine learning to prevent fraud, providing extra security for your transactions.

It accepts all types of mobile wallets, providing flexibility for your customers.
Cons
Based on pay-as-you-go, its pricing model is expensive for smaller restaurants with high transaction volumes.

For businesses that do not have a solid online presence, there might be better choices than Stripe.

The interface may be daunting for non-tech-savvy users, making it easier to use with technical assistance.

Not all features may be necessary for smaller businesses, leading to unused services at a cost.

Stripe's customer service can sometimes be slow, which can cause delays in resolving issues.

There needs to be multi-currency support for restaurants that deal with international customers.
Worldline: Easiest Setup for Small and Startup Restaurants
Worldline Card Reader presents a viable solution for small and start-up restaurants in the UK, offering a balance of efficiency, security, and user-friendliness.
Overview & Benefits of Worldline
In the bustling and competitive landscape of the UK's hospitality industry, small and start-up restaurants require efficient, reliable, and cost-effective payment solutions. The Worldline Card Reader emerges as a noteworthy option designed to meet the unique needs of these burgeoning businesses. 
Worldline, known for its innovative payment technologies, offers a card reader solution that combines functionality with user-friendliness, making it an attractive choice for restaurants starting or operating on a smaller scale.
While it addresses many needs of small-scale operations, costs, connectivity, and scalability should be considered when deciding. For those stepping into the competitive restaurant industry, choosing the right payment processing tool like the Worldline Card Reader can be a step towards ensuring a smooth, customer-friendly service.
Features
Versatile Payment Options: The Worldline Card Reader supports a range of payment methods, including contactless, chip and PIN, and magnetic stripe cards, catering to diverse customer preferences.
Compact and Portable Design: The device is compact and easy to handle for small restaurant spaces, perfect for table-side payments.
Integration with ePOS Systems: It offers seamless integration with various ePOS systems, essential for efficient order and sales tracking.
Security Compliance: Adhering to PCI DSS standards, the card reader ensures secure handling of customer payment information, a critical aspect of maintaining trust.
User-Friendly Interface: The device is designed with simplicity, making it easy for staff to operate with minimal training.
Worldline Card Reader Pricing and Fees
Worldline does not provide prices directly for the card reader. You should contact the company directly for a price quote that suits your needs. 
Pros
Enhanced Customer Experience: Quick and versatile payment processing options can significantly enhance the customer dining experience.
Space-Efficient: Its compact size is ideal for small restaurants where space is a premium.
Ease of Use: The straightforward interface reduces the learning curve for new staff.
Secure Transactions: High-security standards protect against fraud, giving the restaurant and its customers peace of mind.
Improved Efficiency: Integration with POS systems can streamline the order-to-payment process, improving overall operational efficiency.
Cons
Cost Considerations: For start-ups and small restaurants, the initial investment and ongoing transaction fees must be weighed against the benefits.
Technical Support Dependency: Smaller establishments might require additional support to troubleshoot and resolve technical issues.
Scalability Limits: As the restaurant grows, there may be a need to upgrade or add more devices to meet increased demand.
SumUp: Best for Catering Services that Invoice
SumUp Card Reader emerges as a highly suitable payment solution. SumUp, a well-established name in mobile point-of-sale (mPOS) technology, offers a card reader that is particularly beneficial for catering businesses, from mobile food trucks to event caterers.
Overview & Benefits of SumUp
In the dynamic and diverse UK catering industry, where flexibility and efficiency are paramount, SumUp is the ideal card reader. This device accommodates catering operations' fast-paced, varied, and often mobile nature.
Its user-friendly design and the ability to accept various payment methods make it a strong contender for caterers. However, considerations around internet dependency, transaction fees, and the hardware's robustness should be considered. 
For many catering businesses, from small pop-ups to established event caterers, SumUp provides a balance of convenience, security, and cost-effectiveness.
Features
User-Friendly App: The accompanying app is intuitive, allowing for quick staff training and easy sales tracking.

Wide Range of Payment Options: The SumUp Card Reader supports contactless payments, chip and PIN, and magnetic stripe cards, catering to all customer preferences.

Mobile and Compact: Its small size and wireless design make it ideal for mobile catering setups and outdoor events.

Easy Integration: The device integrates smoothly with smartphones and tablets using Bluetooth, facilitating easy management of transactions.

Robust Security: It complies with PCI DSS standards, ensuring secure handling of payment information.

Simple Pricing Structure: SumUp is known for its straightforward pricing, with a transparent fee per transaction and no hidden costs.
SumUp Pricing & Card Readers
The SumUp card reader will cost you £39.00, while a payment terminal costs £139.00. The processing fee is 1.69% per transaction. 
Pros
Flexibility in Payment Processing: The ability to accept various forms of payment is particularly advantageous for catering businesses serving diverse clientele.

Portability: Ideal for caterers on the move, the device can be easily transported and set up anywhere.

Low Upfront Costs: The absence of monthly fees and affordable initial costs makes it accessible for small or start-up catering businesses.

Ease of Use: The simplicity of the device and app ensures that staff can quickly become proficient in its use.

Transparent Fees: Clear, straightforward transaction fees help businesses manage finances without worrying about unexpected charges.
Cons
Internet Reliance: Reliable internet or mobile data is essential for transaction processing, which could be challenging in remote catering locations.

Transaction Fees: While there are no monthly fees, the per-transaction cost might accumulate, especially in high-volume operations.

Limited Advanced Features: While sufficient for basic transactions, it may need more advanced features that require more extensive or complex catering operations.
Square Payments: Easiest Setup for Small and Startup Restaurants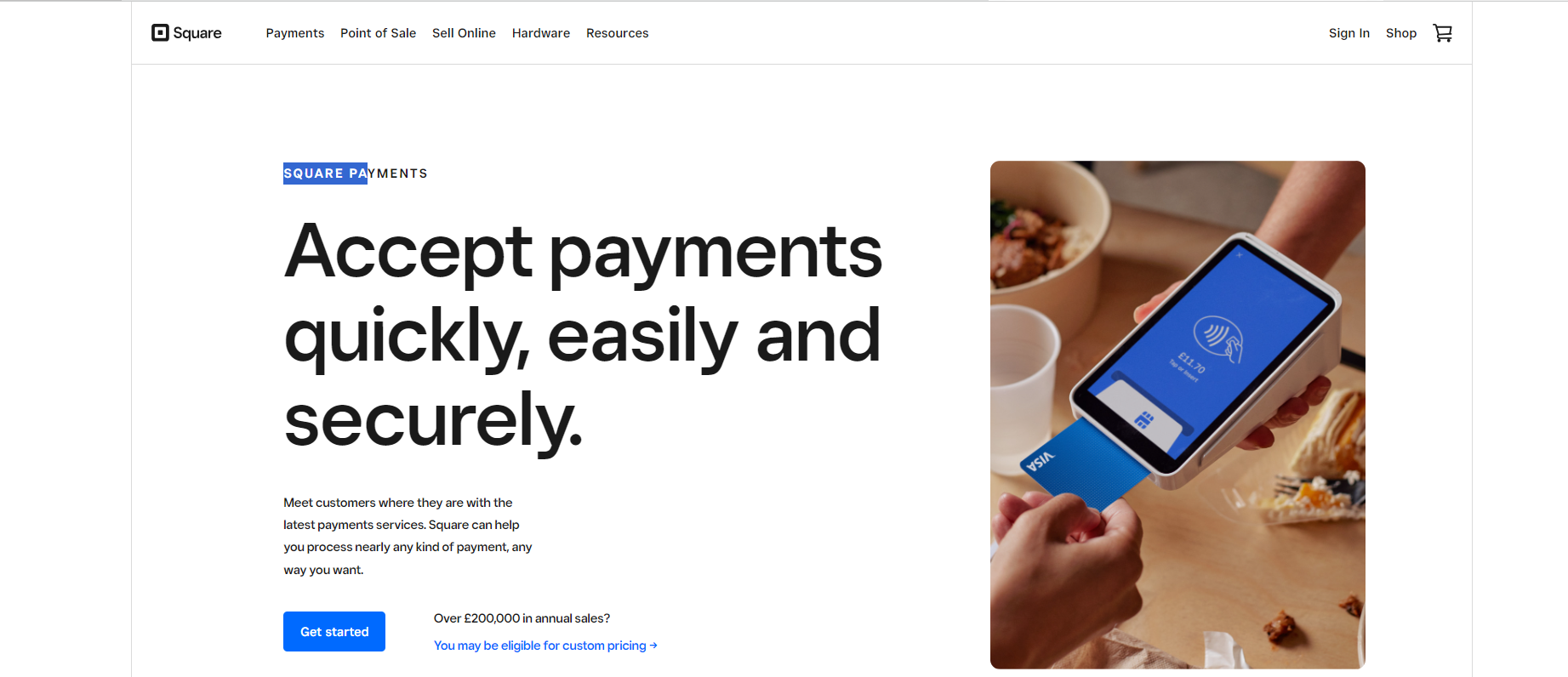 Square Payments offers the most straightforward setup for small and startup restaurants, providing a seamless payment solution that is quick to implement.
Overview & Benefits of Square Payments
Square Payments is ideal for small and startup restaurants due to its easy setup process. With Square, you can quickly accept credit card payments without hassle.
One of the standout benefits of Square Payments is its free built-in POS system and online ordering site specifically designed for restaurants. This means you can easily manage your orders, track inventory, and streamline your operations all in one place.
Another advantage of using Square Payments is that they do not charge surcharge fees for different types of cards. Whether your customers are paying with Visa, Mastercard, or American Express, you won't have to worry about extra costs eating into your profits.
Additionally, Square has waived chargeback fees, which helps protect your business from fraudulent transactions.
Square offers these great features at no additional cost to you as a restaurant owner and doesn't require an approval process like many other payment processors do.
This means you can get started immediately without waiting for account approval.
Square Payments Pricing & Card Readers
Square Payments offers transparent and affordable pricing options for small and startup restaurants. Here are the details:
Flat-Rate Processing: Square charges a flat-rate fee of 2.6% + £0.10 per transaction for all major credit cards.
No Monthly Fees: Square does not impose monthly fees, unlike other processors, making it a budget-friendly option.
Free Card Readers: Square provides free card readers that can be used with smartphones or tablets, allowing you to accept payments from anywhere.
Additional Hardware Options: For restaurants that prefer more advanced hardware, Square offers a range of options, including square terminal and contactless payment readers.
Pros
Easy setup process that is beneficial for small and startup restaurants.

Square Payments offers a complete system that includes hardware and software.

It provides a comprehensive ecosystem of tools and features, including inventory management, gift cards, and customer feedback.

There are no monthly fees, which can help control costs for small businesses.

It's very flexible and can work well with various business models.
Cons
While the setup is easy, the fees can add up for larger transactions.

It is less robust than other processors and may not be suitable for larger restaurants.

Costs can increase quickly with additional services and features.

Transaction fees can be high compared to other processors.

Customer support could be improved.
Why Restaurants Need Credit Card Processing Services
The convenience and efficiency of credit card processing services are crucial for restaurants. Customers, nowadays, prefer cashless transactions for their ease and speed. The use of credit cards in dining establishments is increasing as diners choose plastic — not just for luxury or high-end establishments but even at small cafés or food trucks.
Moreover, such a system helps improve service delivery and significantly boosts customer satisfaction. These services aid in streamlining operations by reducing wait times with quick transaction processing.
They also provide detailed transaction records that can be especially beneficial when tracking sales or doing analytics. Credit card processing makes handling financial transactions easier while allowing restaurant owners to focus more on enhancing food quality and customer service.
Choosing the Right Credit Card Processor for Your Restaurant
When selecting a credit card processor for your restaurant, consider your business model and the payment tools that are available to you. Also, consider the monthly and transaction fees associated with each processor.
Business model
Different payment processors operate on various business models, with impacts seen in the pricing patterns and service structures they offer. Dojo, for instance, provides subscription-based services that cater to restaurants of all sizes – a fact distinguishing it from others in the competitive landscape.
For businesses operating online primarily, considering options like TakePayments is wise due to their competence in managing online food orders and delivery systems. Square Payments may be the more affordable option due to its comparatively lower fees when looking at smaller establishments already trading for some years.
Larger or full-service restaurants might find value-for-money solutions with Stripe. If invoicing plays a significant role in your operations, such as catering services or banquet halls – SumUp may be the ideal fit.
Available payment tools
Advanced payment tools make it easier to handle transactions in restaurants. They include card readers, mobile app payments, and online services designed for secure processing.
For instance, TakePayments supports online food ordering, while SumUp caters to invoicing needs for catering services and banquet halls. Whether settling a bill at the table or serving customers from your ghost kitchen, these features can streamline operations significantly.
Square Payments offers an economical choice for small establishments with its low fees. These diverse tools enhance the payment flexibility of any restaurant business model – crucial in today's digital age, where customers demand quick and effortless checkout experiences.
Monthly and transaction fees
Credit card processors impose different types of fees. Monthly and transaction fees are two standard charges restaurant owners must take into account when selecting a service. The monthly fee, often termed a subscription or flat rate, is an ongoing charge for using the payment processing platform.
This could vary based on the number of terminals used, features availed, or tier level opted by the restaurant owner.
On the other hand, transaction fees apply every time a credit card payment is processed. These costs may be determined by factors such as the type of payment (in-store vs online), the card brand involved, or your business size and sales volume.
For instance, Square Payments provides low-cost fees for small but established restaurants, while Dojo offers subscription schemes catering to eateries across various sizes.
There's no one-size-fits-all solution here; each restaurant must carefully assess its average sales volumes and projected growth against these recurring expenses to choose an affordable yet effective credit card processor.
It is essential to keep a handle on these cost components because they can significantly influence your bottom-line profits over time.
FAQ
What is a restaurant payment processor?
A restaurant payment processor is a service that enables restaurants to accept credit and debit card payments from their customers. It acts as the intermediary between the restaurant and the customer's bank, securely transmitting payment information for authorization and settlement.
Do restaurants need a specific payment processor?
Restaurants do need a specific payment processor that caters to their unique needs. With various payment options and tools, restaurants must choose a processor to handle their business model.
What is the sound processing rate for restaurants?
A reasonable restaurant processing rate typically falls between 1.5% and 3.5% of each transaction. Negotiating rates with your processor can lower costs, especially if you have a tiered plan.
How do I get the lowest processing rates for my restaurant?
To secure the lowest processing rates for your restaurant, opting for a payment processor with a predictable flat-rate pricing structure without any monthly fees is advisable.
Conclusion
In conclusion, choosing the right credit card processing service for your restaurant is crucial to ensuring smooth and efficient transactions. Due to its versatility and robust features, Dojo is the best overall choice among the top options available.
Whether you're a small startup or a well-established eatery, finding a suitable credit card processor can help streamline your operations and provide a seamless payment experience for your customers.
So, take the time to research and select a processor that aligns with your specific needs and business goals.
Best POS software