Best retail ePOS systems in the UK. Compare the best ePOS software for your store in 2022!
Top 10 Best Retail ePOS Systems in the UK
Retail ePOS Systems are the latest rage in the retail industry. Retail stores, supermarkets, and other companies are using these systems to increase productivity while cutting down costs even further.
There are different kinds of ePOS systems available and each one has a different way of integrating with a retailer's existing business software or system. This article discusses some of the top 10 retail ePOS systems in use today in the UK.
POS systems help business owners track inventory, manage stock and record transactions between the business and its customers. Retail ePOS systems work on a similar premise but add wireless connectivity to their mix. This means that retailers can use them on the go without having to worry about internet connections or power sources.
We will provide you with a list of the top retail ePOS systems in use today. Use this guide to compare each system so that you can choose the best one for your retail's needs. Our top 10 list includes some of the best ePOS systems on the market at the moment. You can use these ePOS solutions to build a business website, create invoices, manage inventory, process online payments and much more.
Read on to learn more.
Vend: All-in-one Cloud Retail Solution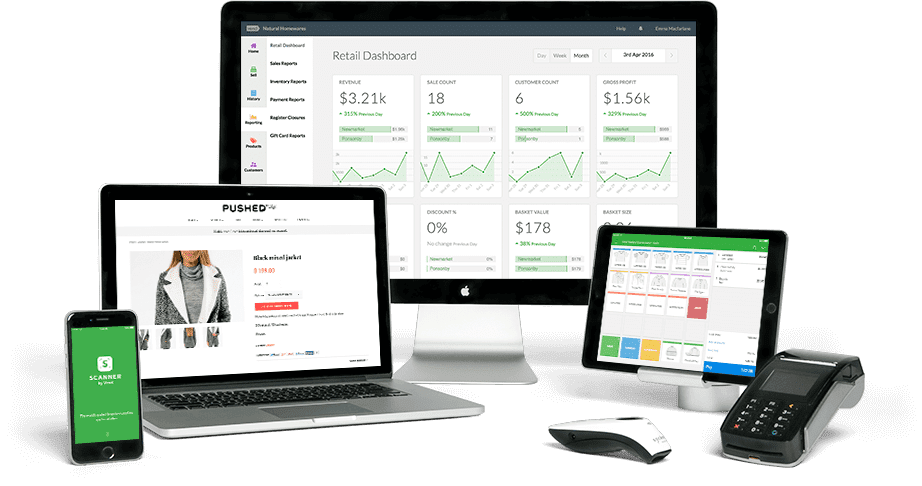 Vend is a cloud-based POS software that allows you to manage your entire retail business from stock management and invoicing, to staff management and marketing. It can be accessed through a web browser or mobile app on iOS and Android platforms which makes it convenient to use for entrepreneurs running stores across different regions.
Key features in Vend software:
   

Manage stock, suppliers & orders

   

Accept online payments (PayPal, Apple Pay, etc)

   

Create custom reports using built-in analytics

   

Manage staff logistics (scheduling, time clock)
Vend is a complete retail management solution with multiple payment options, email marketing capabilities and real-time reporting. It can be integrated with third-party services like Google Analytics to provide more in-depth insights into user behaviour. You can start using Vend in just three steps in 30 minutes.
Pricing: $99.95 per month (no contract required).
Square POS
Square is the most popular POS provider of payment solutions for small businesses. It has its own POS app which is compatible with iOS devices and can also be used by merchants running Android-powered smartphones.
Key features in Square's retail app:
   

Accept payments using a range of options (contactless, chip & pin)

   

View real-time reports to analyse sales
Square's retail app allows you to run transactions in multiple currencies and manage inventory using barcode scanning. If your business deals with payments via magnetic stripe cards, you can use a Square magstripe reader instead of buying a compatible hardware device.
Pricing: $29 per month (no contract required).
Lightspeed Retail POS System
The Lightspeed Retail POS System comes with an in-store iPad stand, cash drawer and card reader which allows you to create a complete point of sale experience using just one device. Lightspeed is one of the leading POS providers. There are separate versions for restaurants & retail stores so make sure you choose the right one for your business.
Key features in Lightspeed Retail:
Customise the interface to suit your business needs

Accept online & offline payments (magstripe, NFC/contactless)

Integrate with third-party software using Zapier integration
Lightspeed is an advanced retail POS system with features like in-store queuing and staff management. It can also be integrated with popular e-commerce platforms like Shopify, Amazon and eBay.
Pricing: $49 per month (30-day trial available)
Bindo POS System
Bindo offers a complete point of sale system for retail stores with iOS and Android apps, customisable receipt templates & reports, in-store coupons & loyalty rewards programmes. It's one of the more expensive ePOS solutions at $99 per month but offers features that are usually only available in high-end enterprise software.
Key features in Bindo:
Custom interfaces for different departments (sales, marketing, etc.)

Ability to add custom fields to receipts and reports

Track products using barcode scanning
Bindo's mobile app lets you process multiple transactions in real-time with secure offline payments for products not carried in inventory. You can create custom reporting dashboards and track customer behaviour using data analytics tools.
Pricing: $99 per month (no contract required)
Epos Now: Retail Point of Sale Software
Epos Now is a cloud-based POS system with PC and mobile apps (iOS & Android) for processing transactions on the go. The free POS system version allows you to run your business on five devices while the professional plan offers unlimited use and enhanced features like inventory management and staff management.
Key features in Epos Now:
Manage inventory with barcode scanning

Multi-store management, receipt printing & reports
Epos Now lets you process transactions using three different modes – offline with a PIN pad, online via card reader or online using a mobile device. You can also create customized receipts and manage customer loyalty programs.
Pricing: From $69 per month (no contract required)
Zettle Retail POS System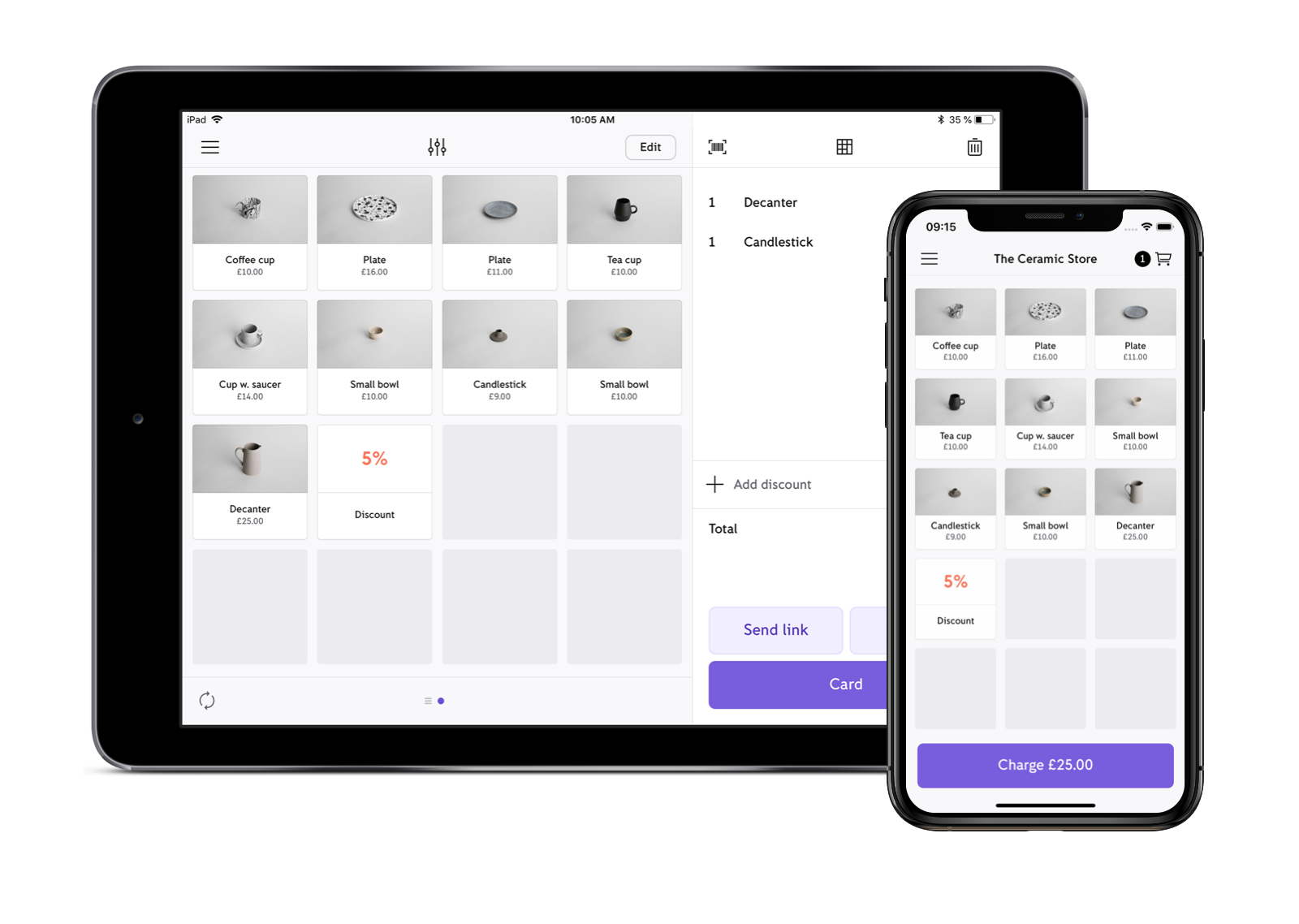 Zettle is a complete point of sale system for brick-and-mortar retail businesses that accept card and contactless payments. It comes with iPhone and iPad stands and an integrated cash drawer so you can process transactions just like you would in a traditional retail store. Zettle's hardware & software bundles start at £499 which makes it one of the more expensive retail point of sale systems out there.
Key features in Zettle:
Customize the interface to suit your business needs

Customer-facing & staff-facing modes
Zettle is a good option for small to medium businesses that want features like cash drawers, touchscreens and stand accessories. You can add your business logo to receipts and use the built-in campaign builder tool to create coupons customers can swipe for discounts at checkout.
Pricing: From £499 (hardware & software bundles)
Shopify POS
Shopify POS is a free point of sale system for iOS and Android tablets that comes with an integrated credit card reader. It has easy-to-use inventory management tools so you can track products you have in stock, how many are sold on a daily basis and even generate reports.
Key features in Shopify POS:
Customize the invoice layout with ease

Track inventory, sales & orders
Shopify's free point of sale system is great for small businesses that are just starting out. You get access to clients' order data so you can respond to them faster and process refunds more efficiently. It also comes with a detailed analytics section that will help you estimate the profitability of your business.
Pricing: Free (limited features)
Clover Point of Sale System
Clover POS is one of the most popular retail point of sale systems in the United States. It's currently expanding its reach to other countries including Australia, Canada and the UK. The company has partnered with major banks to provide businesses with free ATMs which makes it an even better option for those who plan on opening multiple stores.
Key features in Clover:
Integrate with major banks for free ATM transactions

Customize the interface to suit your business needs
Clover provides businesses with a full suite of tools including inventory management, mobile sales apps and credit card processing. It's easy to use even if you've never run a retail store before and it has built-in analytics that will help you track sales trends.
Pricing: From £1,333 (monthly payment required)

What are the Benefits of a Retail ePOS System?
Retail ePOS systems offer many benefits to retailers like simplified inventory management, instant access to customer information, improved productivity and workflow among others.
With ePOS systems, retailers are able to manage their stores more effectively. They can use the software to track inventory and order products when they're running low on stock. Most of these POS apps work in real-time so you'll always know where your inventory is and how much you have left at any given time. This way, you'll be able to avoid out-of-stocks or short supplies.
Many ePOS apps come with pre-built templates that help retailers create professional product listings easily. They also allow you to attach images, make custom fields and more to suit your business needs. Furthermore, many of these systems support a wide range of payment methods including credit cards, debit cards and more.
ePOS systems simplify the business workflow by allowing retailers to monitor sales, keep track of what's selling and manage different departments or outlet locations more effectively. You can use them on the go as long as you have a compatible device such as a smartphone or tablet with you. This means that you'll be able to access your store account even when you're out of the premises and your staff can manage inventory or restock items as needed.
In addition to this, retail ePOS systems allow you to improve customer management by letting customers buy from your store with a few clicks. They can place orders for products that are not in stock and make payments using the most convenient methods. The software also allows you to build customer profiles and get valuable insights into their shopping habits that you can use to improve your business's outreach efforts.
How to Choose a Retail ePOS System for Your Business
The right point of sale system should have the tools you need to streamline your workflow and build a loyal customer base. You'll find that some systems are better suited for small businesses while others will appeal to larger enterprises.
Key things to consider when choosing a retail ePOS software:
Size of Business
If you plan on building a large retail business with multiple locations, then you'll need a point of sale system that can handle the load. A free solution might work in the beginning but you'll have to pay for additional features later down the line.
Ease of Use
You want a POS system that's easy to use so your employees can get up to speed fast and focus on the important aspects of their job. Look for a system that has a simple interface with all the features you need front and centre.
Payment Processing
Is your point of sale system connected to major banks so customers can pay for orders with their debit or credit cards? You'll have a hard time getting new customers if they are forced to use cash at checkout.
Customer Support
You want a point of sale solution that offers timely customer support when you're in a bind. Make sure there's an active online community where you can ask for help or learn how to use the system more efficiently. Getting POS software that offers reliable customer support can help you avoid significant losses on your bottom line.
Integrations
You want a POS solution that can work with other software you're already using. For example, if your business is currently running on an e-commerce platform like Magento, you might want to find an ePOS system that's compatible. You do not want to end up with a POS that forces you to acquire additional software.
Features
Look for a system that has all the bells and whistles you need to run your business. Some retail point of sale systems will come with features like inventory management, reporting tools, customer relationship management (CRM) integration, etc. When looking at the features of a point of sale system, you should have the specific needs of your business in mind.
Pricing
POS solutions typically fall into one of two camps: free or paid. Paid options cost more upfront but they'll have fewer limitations. However, do not focus so much on the price that you overlook a great opportunity.
Reports and Analytics
You should get a sense of how many reports and analytics are available with each POS system. You need to know what you're paying for before you make a final decision on a new point of sale solution.
The best POS system allows business owners to process transactions quickly, store customer data and build a loyal customer base that will continue to buy from you for years to come. If you have a small business or work as a contractor, then look for a POS system that provides mobile capabilities so you can sell goods and services wherever business takes you.
Key Features in Retail POS Systems
When it comes to choosing a retail POS system, you need to consider which features are the most important for your business. Here are some key points that retailers should look out for in their POS systems.
Fast and accurate inventory management
It's vital that you choose a POS system that can accurately track inventory, especially if you're running an online retail store. The system should have the ability to create multiple item listings with custom fields if needed and also ensure that you don't run out of stock by sending notifications even before you realise that there's a shortage. This way, you can restock your inventory before running low on supplies.
Support for multiple payment options
Retailers need to accept a variety of payment options on their ePOS systems. You should look for a system that works with both offline and online payment modes to give your customers the freedom to pay using the method that is most convenient for them.
Integration with other services
You can also gain more value from your POS system by buying one that integrates with other software systems like your inventory management app. This way, you can save time and effort by using a single interface to manage the entire business.
Employee Management and Workflow
If you're running a business with multiple employees, look for retail ePOS systems that allow you to manage and assign tasks to different staff members using the system. You can also use it to communicate with them and get real-time updates whenever necessary.
Loyalty Programs and Gifts
Retailers can use POS apps to set up loyalty programs for customers which will encourage repeat business. The system should allow you to run gift contests or other promotional activities easily so that you can increase sales without spending too much on advertising.
Multilingual Support
If your business serves a global audience, it's essential that your ePOS system is multilingual and supports a variety of languages, currencies and countries. In addition to this, the system should allow you to customise it according to your preferences which will help you improve user experience.
Customer Relationship Management
If you're running a B2B or B2C online retail business, you can use your POS software to manage customer profiles and get insights into their shopping patterns. The system should store all transactional data in a secure location that is easily accessible by different users.
How Much Do Retail ePOS Systems Cost?
POS software varies in price depending on the features you need. For example, Shopify POS costs £79 per month while Lightspeed starts at £19 per month.
You'll also have to factor in how many users will be using the system and whether you want support during business hours or 24/7 help. Self-service options are less expensive than those with around-the-clock support.
You want a retail ePOS system that can do more than balancing your books and track sales channels and trends. You want a solution that's easy to use and it should be designed for businesses like yours.