Selecting the right ePOS system can often feel like a daunting task. With the rise in cloud technology, businesses increasingly turn to Cloud POS systems due to their numerous advantages, from affordability to improved security.
This article aims to simplify this choice by providing an in-depth review of top-performing Cloud-Based POS Systems available in 2023. Ready? Let's take your business operations up a notch!
Top 5 Cloud-Based POS Systems for 2023
Picking the best Cloud POS System is essential for your business's success. Let's dive into the top-rated systems for 2023:
Lightspeed POS: Best For Retail
Lightspeed Retail POS is a leading cloud-based solution with an edge in managing complex inventories across multiple locations. This all-in-one system caters to retail, restaurant, and golf businesses, offering innovative features like integrated product catalogues and order tracking.
Features of Lightspeed POS
Multiple payment options: It handles various payment types, making transactions smooth and more convenient for your customers.
Return processing: Customers' returns are quickly processed, ensuring rapid resolution and reducing downtime in the store.
Gift card support: Lightspeed POS facilitates the sale and acceptance of gift cards, a popular option for holidays or special occasions.
Surge pricing capabilities: This system allows you to implement surge pricing strategies, offering special rates to attract more shoppers during peak times.
NFC transaction compatibility: It supports Near Field Communication (NFC) transactions, meaning customers can make payments quickly using mobile services such as Apple Pay or Google Wallet.
Customer experience priority: Catering to clients' needs is at the forefront with features designed to improve their shopping experience.
PCI DSS compliance: Lightspeed POS follows PCI Data Security Standards (DSS), ensuring that all your customer information is secure from potential breaches.
Pros
Lightspeed POS offers an easy setup, which benefits companies just starting or looking to expand their online presence.
This system does not charge extra for additional or new hardware, making it a cost-effective choice for small businesses.
Lightspeed POS offers real-time information, allowing businesses to make informed decisions based on current data.
This ePOS system supports near-field communications (NFC) transactions, allowing businesses to accept various types of payments for convenience.
Lightspeed POS can help businesses comply with PCI DSS by ensuring secure transactions.
Lightspeed POS supports gift cards, an essential feature for retail businesses wanting to offer more payment options to their customers.
Cons
The system can be complex and challenging to navigate, especially for beginners.
The system experiences occasional glitches and bugs, which can disrupt business operations.
Issues with the system's integration with other platforms, which could potentially limit its effectiveness.
Aloha POS: Best for Restaurants
Aloha Restaurant POS (Point of Sale) is a widely recognised and robust system designed specifically for the restaurant industry.
Overview of Aloha POS
Renowned for its user-friendly interface and comprehensive functionality, Aloha caters to many dining establishments, including quick-service, casual, and fine-dining restaurants. It streamlines operations through efficient order entry, advanced payment processing, and effective table management. 
Additionally, the system excels in inventory and employee management, integrates seamlessly with various third-party applications, and offers robust reporting and analytics tools. 
With features like customer relationship management, cloud-based options, and support for loyalty programs, Aloha POS stands out as a versatile and reliable solution for enhancing restaurant efficiency, customer service, and overall profitability.
Features
Aloha POS offers a range of features that make it the top choice POS for restaurants. These features include:
Order Entry and Tableside Ordering: Aloha POS offers an intuitive order entry system, which allows staff to take orders quickly and accurately.
Payment Processing: The system supports various payment methods, including credit/debit cards, mobile payments, and contactless payments.
Table Management: Aloha POS includes table management features that help staff track the status of tables, manage waitlists, and optimise seating arrangements.
Menu Management: The system allows easy menu customisation, including prices, items, and descriptions.
Integration Capabilities: Aloha POS can integrate with various third-party applications, including accounting software, employee scheduling tools, and online ordering platforms.
Pros
User-Friendly Interface: Aloha POS is known for its intuitive and easy-to-use interface, making it simple for staff to learn and operate.
Customization: Offers extensive customisation options to suit different types of restaurants and service styles.
Integrated Online Ordering: Supports online ordering integration, essential for modern restaurants adapting to digital trends.
Tableside Ordering and Payment: Supports tableside ordering and payment, enhancing customer service and efficiency.
Loyalty Program Support: Provides options to manage and integrate loyalty programs, which can help retain customers and increase sales.
Cons
Cost: Aloha POS can be relatively expensive, especially for small businesses. The costs include hardware, software, and ongoing maintenance fees.
Hardware Dependency: Primarily relies on its hardware, which can be a limitation if you prefer using different hardware or have existing equipment.
Software Updates: Some users report issues with software updates, which are in terms of frequency or encountering bugs post-update.
Syrve POS: Best for E-Commerce
Syrve POS is a powerful tool for e-commerce businesses, offering a range of features that streamline operations, enhance customer engagement, and drive sales.
 As the e-commerce landscape continues to evolve, Syrve is well-positioned to meet the changing needs of businesses, promising a future of efficiency, growth, and innovation.
Overview of Syrve POS
Syrve E-commerce POS is a comprehensive solution designed to streamline sales, inventory management, and customer relations for e-commerce businesses. It stands out with its intuitive design and robust functionality.
Syrve's platform is equipped with many features, including seamless inventory management, diverse payment processing options, and advanced customer relationship tools, all aimed at enhancing the efficiency of e-commerce operations.
Syrve's mobile POS capabilities ensure business owners can manage their processes on the go, improving flexibility and responsiveness. Syrve's mobile accessibility allows for greater operational agility and provides on-site sales and service opportunities.
Features of Syrve POS
Integration Capabilities: Syrve offers extensive integration capabilities, allowing it to seamlessly connect with various e-commerce platforms, accounting software, and other essential business tools.
Security Features: Security is paramount in Syrve's design, featuring advanced encryption and compliance with leading security standards to protect sensitive data.
Interface and Usability: Syrve's user interface is designed for ease of use, ensuring that even those new to POS systems can navigate it effortlessly.
Customisation: Syrve allows extensive customisation, enabling businesses to tailor the system according to their needs and preferences.
Real-time Tracking: One of Syrve's standout features is its real-time inventory tracking, which ensures that businesses have up-to-date information at their fingertips.
Multiple Payment Options: Syrve supports various payment options, catering to the diverse preferences of online shoppers.
Building Customer Profiles: Syrve excels in creating detailed customer profiles, which can be leveraged for personalised marketing and sales strategies.
Loyalty Programs and Rewards: The platform supports creating and managing loyalty programs, encouraging repeat business and customer loyalty.
Pros
Comprehensive Feature Set: Syrve offers a wide range of features, including inventory management, sales tracking, and customer relationship management, making it a versatile tool for various business needs
User-Friendly Interface: The system is designed with a focus on usability, ensuring that it is accessible even to those who are not tech-savvy.
Seamless Integration: Syrve integrates well with various e-commerce platforms and accounting software, streamlining business operations.
Real-Time Inventory Tracking: The platform offers real-time inventory management, crucial for maintaining optimal stock levels and reducing losses.
Cons
Learning Curve: For users new to POS systems, there might be a learning curve in understanding and utilising all the features effectively.
Cost Considerations: While offering robust features, the pricing might be steep for small businesses or startups operating on a tight budget.
Hardware Compatibility: There may be limitations or requirements regarding the hardware needed to run Syrve effectively, which could entail additional investment.
Square POS: Best for Omnichannel
Square POS system stands out as the top choice for omnichannel businesses. With Square POS, enterprises can sell online, on social media platforms, over the phone, in person, and even in the field.
This comprehensive cloud POS system offers various features, including inventory management, customer relationship management (CRM), loyalty programs, and seamless e-commerce integration.
What sets Square POS apart is its accessibility – it allows businesses to accept payments from any device, including mobile payments. Small businesses can take advantage of Square's free plan and trial option, making it affordable for those looking for a robust cloud-based POS system.
Features of Square POS
Omnichannel Sales: With Square POS, businesses can sell their products online, on social media platforms, over the phone, in person, at their physical store, and even in the field.
Mobile Payment Capabilities: Square POS allows businesses to accept payments through mobile devices, making it convenient for on-the-go transactions.
Inventory Management: The system provides robust tools for businesses to track and manage stock levels in real-time. This helps prevent stockouts and enables efficient ordering and restocking processes.
Software Integrations: Square POS integrates with various software solutions, such as accounting tools, customer relationship management (CRM) systems, and marketing platforms. These integrations enhance functionality and streamline business operations.
Enhanced Security: Square POS prioritises data security using encryption technology to protect sensitive customer information during transactions. This ensures secure payment processing for both customers and businesses.
Cost-Effectiveness: Square POS offers competitive pricing options for small businesses, with no monthly fees or long-term contracts required. Companies only pay a processing fee for each transaction, making it a cost-effective solution.
Pros
Square POS allows businesses to sell across multiple channels—online, in person, and even over the phone—making it the top choice for omnichannel businesses.
The system offers flexibility, as it can be used and managed from any device with an internet connection, granting businesses real-time access to data.
Square POS has solid security measures in place to protect sensitive business information.
Inventory management is a breeze with Square POS, as the system has features for tracking and managing stock levels.
One significant advantage of Square POS is its mobile payment capabilities, allowing businesses to accept payments from devices of all types.
Cons
While Square POS offers a range of pricing options, some higher-tier plans can be costly.
It relies on a good internet connection for optimal performance, which could be a limitation for some users.
Clover POS: Best for Choice of Merchant Services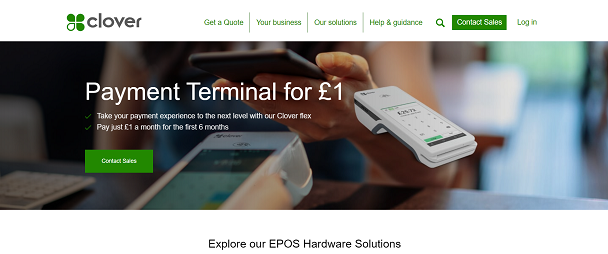 Clover POS is widely recognised as the best cloud-based POS system for retailers. It offers comprehensive features designed to streamline business operations and enhance customer experiences.
With Clover POS, retailers can manage their inventory effectively, track customer information through CRM capabilities, and create personalised loyalty programs. The system also integrates seamlessly with e-commerce platforms, allowing retailers to expand their online presence and reach a wider audience.
By providing advanced reporting and analytics tools, Clover POS empowers retailers with real-time sales data and insights to make informed business decisions. Overall, Clover POS delivers exceptional value for small businesses looking for an easy-to-use yet powerful solution to optimise their retail operations.
Features of Clover POS
Inventory Management: With Clover, you can easily track and manage your inventory. It lets you set up items, organise them into categories, and monitor stock levels in real time.
CRM and Loyalty Programs: Clover POS provides built-in customer relationship management (CRM) tools. You can collect customer information, create personalised profiles, and offer loyalty programs to enhance customer engagement.
E-commerce Integration: Clover seamlessly integrates with various e-commerce platforms, allowing you to expand your reach online and sell products through multiple channels.
Age-Verification Tools: For businesses that require age verification for specific products or services, Clover offers Retail Access Control Standards (RACS)–compliant age-verification tools.
High-Risk Payment Handling: Clover is equipped to handle high-risk payments, such as those involved in CBD sales, making it suitable for businesses in industries with unique payment processing needs.
Virtual Terminal and App Integration: The virtual terminal feature allows you to accept credit card payments from anywhere using a computer or mobile device. Clover also integrates with popular apps like Zoho CRM for enhanced functionality.
Pros
Payment Processor Flexibility
Robust Loyalty Program
Customer-Facing Loyalty App
Cons
Lack of Regulatory Consistency
Limited ACH Payment Processing
Cloud POS Systems Pricing Comparison
Lightspeed POS: starting at 69 EUR
Square POS: starting at £49
Syrve: starting at £49/mo
Aloha POS: Get a Quote
Clover POS: Get a Quote
Understanding Cloud POS Systems
A cloud POS system is a modern point-of-sale technology that operates on internet-based servers rather than local hardware.
Definition of a Cloud POS System
A Cloud POS System, a Point-of-Sale system, leverages the internet and remote servers to manage and use POS software from any web-enabled device. This system offers flexibility and scalability, enabling businesses to grow at their own pace.
It can process real-time data access, providing up-to-the-minute sales reports for more informed business decisions. Security is enhanced with cloud-based systems due to data encryption protocols in place that protect sensitive information from cyber threats.
From a cost perspective, these systems often require less upfront investment than traditional counterparts since they are typically provided on a subscription basis.
Differences between Cloud and Traditional POS Systems
Cloud POS:
Can be accessed from any device with an internet connection, allowing for remote management.
Often offered with subscription models, providing consistent updates and support.
Designed to be flexible, accommodating growth and changes in business needs.
Provides real-time data updates, offering instant insights into transactions and inventory.
Most cloud POS systems use encrypted transactions, enhancing data security.
Offers more pricing variability, including free plans and monthly fees ranging from £14.95 to £175.
Traditional POS
Mainly operates on-site, limiting access to the immediate business environment.
Typically requires upfront hardware expenditures, resulting in an additional initial cost.
Typically less adaptable to changing business requirements.
Real-time data updates may be limited or require additional setup with traditional systems.
Security measures may vary with traditional systems and may require additional safeguards.
Benefits of a Cloud POS System
Adopting a Cloud POS system offers businesses numerous advantages:
Flexibility: These systems provide the luxury of managing and utilising POS software from any device with an internet connection.
Scalability: Cloud POS systems can grow with your business, easily accommodating new products, services, or locations.

Real-time Access to Data: Business owners can access data in real time, allowing for quick decisions based on up-to-date information.

Enhanced Security: With features like data encryption, cloud POS systems provide high-level security to protect your business and customer details.
Cost-Effectiveness: These systems generally come with low price points and easy setup, which keeps operational costs down.

Offline Payment Processing: Some cloud-based systems can still process payments without an internet connection.

Comprehensive Analysis & Reports: Business owners can gain valuable insights into sales dynamics and customer behaviour with customisable reports and advanced analytics features.
Efficient Inventory Management: Automatically syncing inventory tools helps keep track of stock levels in real time.
Streamlined Operations Management: From managing purchase orders to tracking shipped purchases, these systems handle back-end operations effectively.
Customer Loyalty Enhancement: Built-in loyalty programs make it simple to boost customer retention rates by rewarding repeat customers.
Key Features to Look for in a Cloud POS System
Discovering the right Cloud POS System for your business requires understanding its key features. Here are some essential elements to consider:
Device Compatibility: The system should work seamlessly across multiple devices. As noted in our essential facts, this flexibility allows your business to function on any internet-connected device.
Easy Setup: Your chosen system should offer an easy, user-friendly setup process. This feature can save both time and frustration, making it highly valuable.
Inventory Management: An effective Cloud POS system will provide robust inventory management tools. These assist in tracking product levels, order statuses and sales trends.
Payment Processing: Remember that accepting card payments might need a processing service. Choose a system with simple, efficient payment processing included to avoid extra fees and complications.
Reporting Capabilities: Look for systems offering detailed reporting and analytics features. They should provide real-time data about sales, customer behaviour and other critical metrics.
Scalability: As your business grows, so do its demands. Ensure your selected system can adapt and scale alongside your operations.
24/7 Customer Support: Immediate assistance can prove vital when unexpected issues arise. Select a system that provides round-the-clock support services for peace of mind.
Security Features: Protecting customer information is crucial to maintaining trust and loyalty. Your Cloud POS system needs robust security measures, such as data encryption, to keep transactions safe.
FAQs on Cloud-Based POS Systems
How does a cloud POS differ from a traditional POS?
Cloud-based POS systems differ from traditional POS systems in several key ways. Firstly, a cloud POS system operates entirely online, allowing businesses to access their data and manage transactions from any internet-connected device.
In contrast, traditional POS systems rely on local servers or hardware that store information locally. Secondly, cloud POS systems offer greater flexibility and scalability as businesses can easily add or remove terminals as needed without the hassle of physical installations.
What are the advantages of a cloud POS system?
Cloud-based point-of-sale (POS) systems offer several advantages for businesses. Firstly, they provide the flexibility and convenience of managing and accessing your POS software from any internet-connected device.
Secondly, cloud POS software automates payment processing and inventory management tasks, improving efficiency and reducing errors.
Lastly, cloud POS systems are cost-effective compared to traditional on-premise systems.
What are the disadvantages of a cloud POS?
Cloud POS systems come with a few disadvantages that businesses should consider before deciding. Firstly, they heavily rely on internet connectivity, which means that a network outage or slow internet speeds can disrupt business operations.
Additionally, some cloud POS systems have limited offline capabilities compared to traditional on-premise systems, as certain functions may not be accessible without an internet connection.
What do I need for a cloud POS system?
You'll need a few key components to set up a cloud POS system. First and foremost, you'll need an internet connection since the system relies on online access to function correctly.
You'll also need compatible hardware, such as tablets or smartphones, to serve as your point-of-sale devices. Additionally, consider investing in barcode scanners, receipt printers, and cash drawers for a complete setup.
Conclusion
In conclusion, consider cost, features, ease of use, and customer service when selecting the best cloud-based POS system for your business. Look for a system that offers inventory management, mobile payment capabilities, software integrations, and industry-specific features.
Best POS software