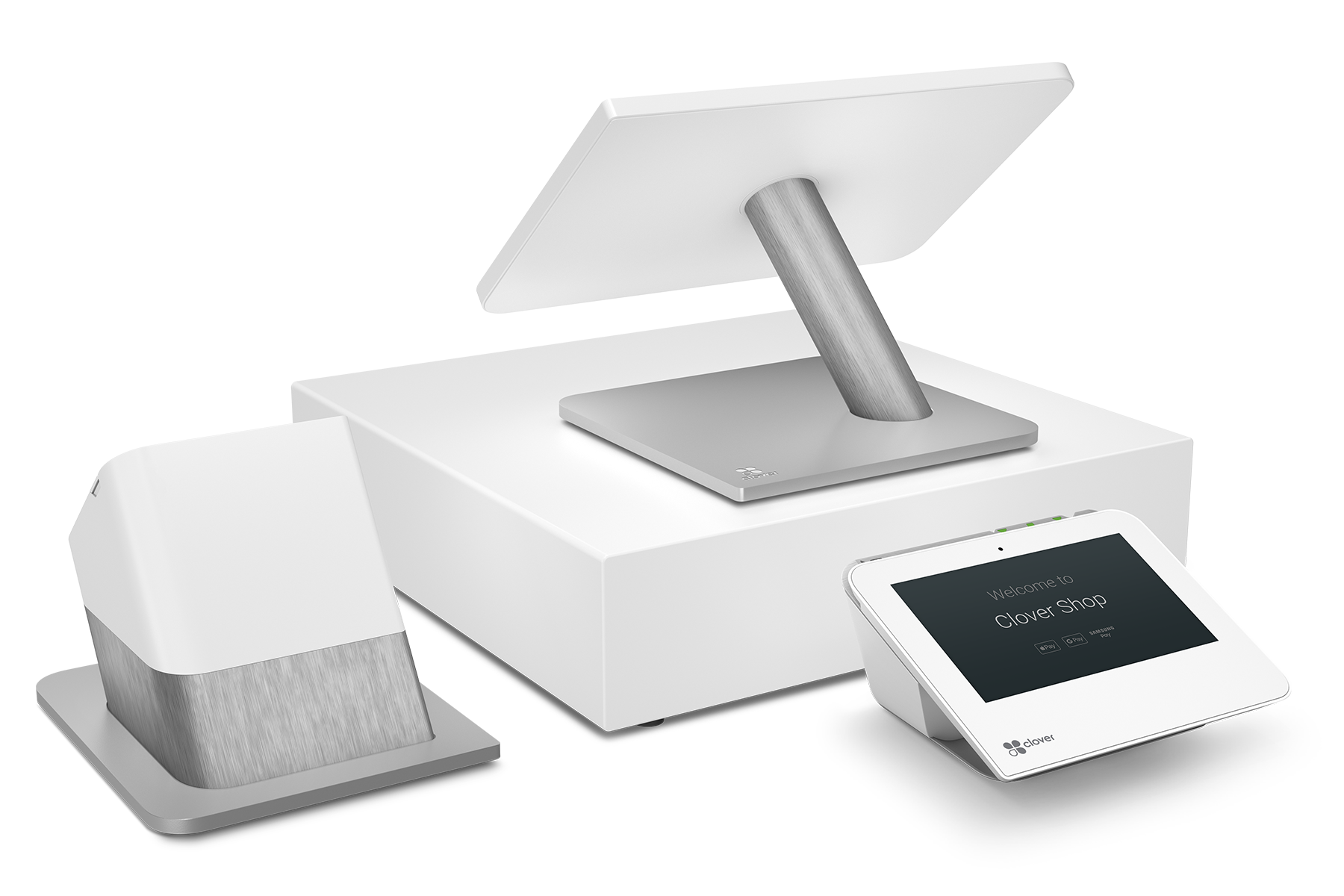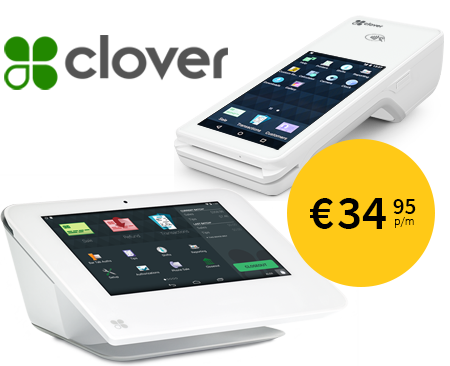 About Clover POS
The Clover POS is a fast and efficient POS system that is perfect for small businesses. The system is easy to use and can be customized to meet the specific needs of your business.
Clover brings together a strong POS with quality hardware options designed to streamline your business. POS Printers, cash drawer, and clover's virtual terminal to process payments, in combination with proprietary software, replace virtually every tracking need your business has.
Founded by John Beatty, Kelvin Zheng, and Leonard Speiser, its lead investor was Sutter Hill Ventures. It was acquired by First Data Corporation—a major player in credit card processing services—and is sold to both the Bank of America Merchant Services and PNC Merchant Services merchant base.
The Clover is a cloud-based system, which means that it can be accessed from any device with an internet connection, including smartphones and tablets. The web dashboard makes it convenient to access the system.
It has an open platform which means it is compatible with third-party software like the BigCommerce business management app, Xero software, Shopify e-commerce platforms, and many others.
It also uses a four-receipt-per-transaction limit that helps you avoid excess or hidden fees by processing multiple sales transactions in one go.
The Clover POS is considered to be the best hardware option to service businesses that accept credit card payment processing. It includes a modern, sleek design, and it comes with high-quality Bluetooth printers to work well in any retail environment.
Why Choose Clover POS: What are The Benefits?
Inventory Management
Every business owner wants to keep track of their inventory items. You can use Clover to track inventory levels and paperless receipts, which is helpful for businesses that want to manage stock. With advanced inventory tracking tools, you can create sale reports and manage orders.
Software Integration
You may already use accounting software such as QuickBooks or Xero to help you track your business' financials. Clover is completely compatible with these systems, which makes it easy to keep track of your finances if you use more than one software platform.
Customer Management
Clover systems allow you to create detailed customer profiles and track their purchase history through the integrated customer loyalty program. This is perfect if you want to learn more about your customers, as well as using targeted marketing campaigns and offers.
Customer Relationship Management (CRM)
Clover's point of sale is perfect if you want to build a strong relationship with your Clover customers and show that you appreciate their business. You can send messages and offers through this POS system, which makes it easy to stay in touch with them on the go.
Clover App Market
The Clover App Market is a great resource for small businesses that want to find new and innovative ways to improve their operations. The mobile app market offers a range of apps that can help you with tasks such as managing employees, tracking sales, and more.
Setup & Installation
You don't need any previous technical experience or knowledge to set up the Clover POS. It's easy to install and you can get started within minutes of opening the box. The apps are also really easy to download, which makes it simple to start using this solution right away.
Contactless Payments and Financial Solutions
Clover software offers a range of payment processing options that are perfect for small businesses. You can use credit and debit cards, as well as Apple Pay and Android Pay with the credit card processor.
There are also a number of financial solutions available, such as loans and merchant account providers, which make it easy to get started with Clover contactless payments.
Clover POS overview
Clover POS Features
Some of the features of the Clover POS systems include:
Customizable invoices: You can create custom invoices to match your brand and style.
Inventory management: You can manage inventory levels and set reorder points to help you stay on top of your stock.
Employee time tracking: You can track each employee's time for accurate scheduling and payroll.
Menu customization: You can create custom menus that are easy to read and understand.
Customer support and relationship management: You can store customer information for repeat business. Using this POS, you can also capture customer feedback and know the specific areas to improve on.
Integrations: Clover dining has an open platform, so it works with more than 500 applications including Shopify, Xero, QuickBooks, Square Register, PayPal Here, Magento, BigCommerce, NetSuite, and many others.
Receipt customization: You can customize your receipts to match your brand and style.
Customer engagement: You can use the Clover system to send targeted offers based on a customer's purchase history, demographic information, and location data. The software allows you to provide excellent customer support.
Security features: Data is encrypted using 256-bit SSL technology.
Clover hardware features: The Clover POS  has a long battery life which makes it ideal for bars and full-service restaurants. It also has a sleek design that makes it easy to transport between venues.
Who Can Use Clover POS?
The Clover POS is perfect for small businesses, including cafés, retail stores, table service restaurant, bars, and markets. It is also ideal for businesses with complex inventory management and employee management needs, such as grocery stores.
Clover has a number of basic features that make it ideal for small business owners, but there are some pretty clear reasons why we don't recommend it to our readers.
Ideally, the system is best for businesses that accept card payment processing and monitor inventory. It will work best if you're looking for a system with great features and want to save money by avoiding monthly cost.
What Versions Does Clover POS Offer?
The  system is available in four different versions:
Clover Station
Clover station is the most comprehensive version of the Clover and includes a built-in receipt printer, barcode scanner, and cash register. Clover station duo is perfect for small businesses that want to accept card payment processing and track inventory.
Clover Go
This is a mobile version of the Clover that can be used with a mobile device. It's perfect for businesses that want to process payments on the go. This version is suitable for mobile businesses as it supports contactless payment processing and Apple Pay.
Clover Mini
This is a small, compact version of the Clover that's perfect for businesses that want to start accepting credit card payment processing without adding to their existing systems and charging more credit card processing fees.
Clover Mini is a lightweight and compact all-in-one system that comes with an integrated receipt printer and cash drawer. 
Clover Mini is perfect for businesses that want to be able to process in-person transactions on the go, such as pop-up shops or street stalls.
Clover Flex
Clover Flex is the newest version of the Clover. It has replaced the former third-party partnership with Revel, and it can now be used with an IOS or Android device and smartphones. If you are looking for portable POS hardware options, then Clover Flex is the option to consider.
Of all the versions offered, Clover Station is the most comprehensive option out there. 
Clover Pricing and Plans
If you decide that Clover is the right POS for your business, you will need to choose a pricing plan and purchase the hardware options. 
Clover offers a few different pricing plans, which vary in terms of the features that are available.
There is also a monthly cost for using the Clover service, which starts at $25 per month. If you decide on a plan that includes additional cards and cash, then you will need to pay the $4.95 per month card reader fee as well as the $1.75 ATM fee.
Although Clover offers some convenient features such as loan access and free app downloads, it's expensive compared to other POS services available on the market. 
However, this may be a more affordable option if you only need to purchase the system on a short-term basis.
Clover POS Limitations
Of course, no system is perfect and there are some limitations to consider before you make your final decision. 
One of the main drawbacks of Clover is that it can be quite expensive, especially if you need to upgrade the hardware. There have been claims of poor customer service as well. 
It's also important to note that Clover is not compatible with Windows devices, which may be an issue if you need to use a Windows laptop or tablet.
Clover is also not ideal for larger businesses that have complex POS needs, such as warehouses and bigger retail stores. 
This system may work well for small businesses, but it would be less valuable in these scenarios.
Conclusion: Should You Get Clover POS?
Choosing the right point-of-sale system can be overwhelming, but Clover is a great option for small businesses. It's easy to use and offers a lot of features that make it convenient for you and your customers.