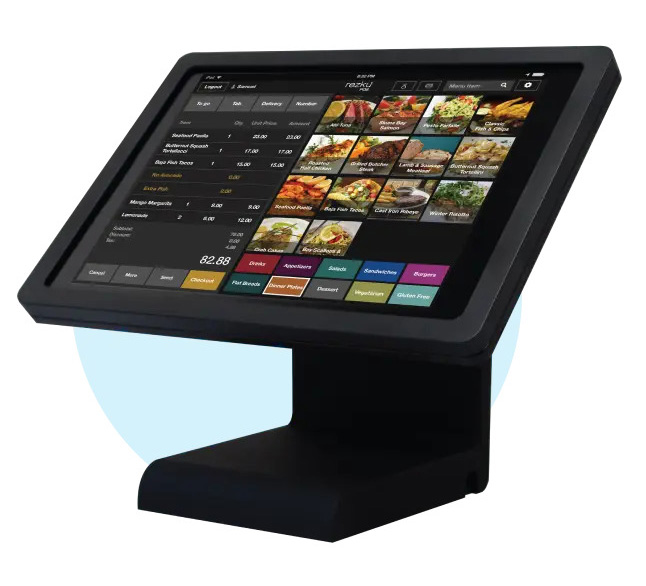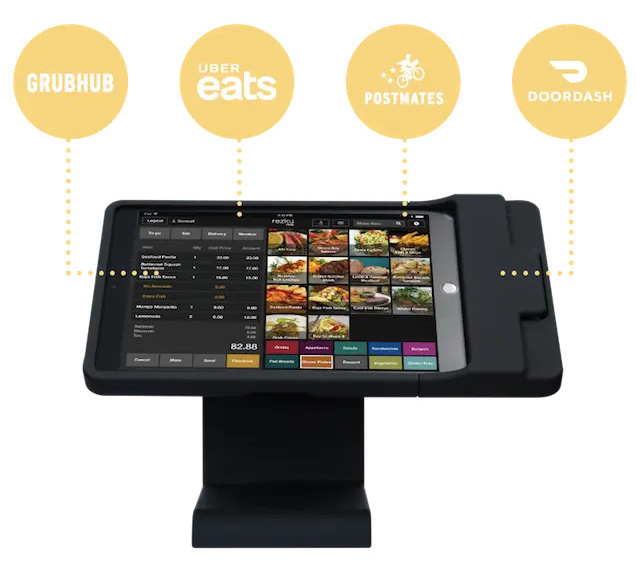 About Rezku POS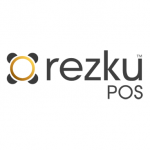 Rezku POS is a comprehensive restaurant management system owned by Guest Innovations. While the company has been in existence for over 7 years, it's in one recently that it introduced a point of sale solution. Rezku POS is primarily offered to restaurant owners, with the intention of helping them simplify their transactions. This modern system makes use of cloud technology to track inventory, sales, and purchases. It's been designed with reliability and efficiency in mind.
This ePOS system does not require the extensive use of barcode scanners as a wireless thermometer is incorporated into its operations. The software has an integrated loyalty program that allows customers the convenience of redeeming their points while shopping at the restaurant. There is also a cloud-based employee scheduling tool and a unique app that allows payments from tableside.
In this Rezku POS review, we have taken the time to evaluate its features in detail. The system has been well-received globally after being launched and one of its greatest strengths is its low cost of ownership over time. Its menu management tool is well-integrated with the point of sale and can be used to generate and print attractive reports. It's been designed to allow restaurant owners to update menu prices online without any special programming skills.
Why Choose Rezku POS?
Customer Loyalty Program
The Rezku POS loyalty program features individual reward points per customer which are issued by assigning them a unique identification number. Whenever a customer buys a product, they are awarded points that can be used for future purchases. These points do not expire and customers enjoy the flexibility to redeem them online as well as in-store. Customer engagement is enhanced by allowing customers to earn rewards based on their order history using this POS system.
Contactless Payment
Contactless payments are enjoyed by customers as purchases can be made without requiring them to use their credit cards. As a result, they don't risk losing or leaving behind plastic cards. The Rezku POS system comes with a unique app that allows in-store payments from tablets. This feature enhances the customer experience while speeding up the ordering process.
Double Entry Accounting
This feature simplifies bookkeeping by allowing you to create a unique entry for each sale, reducing errors and subsequent need for corrections. In addition, it also allows you to generate detailed reports that can be used in managing your business finances. This is especially handy when doing tax season accounting or preparing budgets.
This feature is very beneficial as it allows you to keep track of inventory in real-time. The system has a cloud-based database that enables you to monitor your stock levels automatically. It's also possible for the software to alert managers when low on items and also simplify food ordering.
Easy to Use
The Rezku POS system has been designed to be easy to use and operate. It comes with a modern design that is simple and intuitive. The software supports two-inch, three-inch, four-inch as well as seven-inch touchscreen devices. This makes it ideal for use in a range of establishments including small restaurants or cafes through medium-sized hotels or burger chains and even large restaurants.
Multiple Pricing Options
This ePOS system allows you to set different prices for individual menu items as needed. This gives you the flexibility of increasing prices when necessary without impacting customer loyalty thanks to your points-based rewards program. It's also possible to offer discounts on certain times, product types, or areas of the restaurant.
Pricing & Packages and our Verdict
Rezku POS Pricing and Packages
The Rezku POS system is offered in two different packages. The standard package includes the necessary hardware and cloud-based software while the premium package enables you to enjoy additional features such as remote management and staff scheduling tools. The standard package costs $79/mo while the remote training will cost a one-time fee of $299.
Our Verdict
Rezku POS looks like a great product provided it works as advertised. The demo video on their website is a good indicator of what you can expect to experience. In our opinion, this is an ePOS system that is certainly worth trying out. With certain improvements in various functions, it can compete with other major POS solutions. The extra costs for training may be one of the areas that the company should look into improving.
Generally, Rezku is an impressive and appealing ePOS solution that is worth trying out. Featuring mobile ordering, customer loyalty programs, and cloud-based inventory management among other things, this solution will bridge the gap between independent vendors and large retailers. Its easy-to-use interface makes it one of the most user-friendly ePOS systems available in the market today.