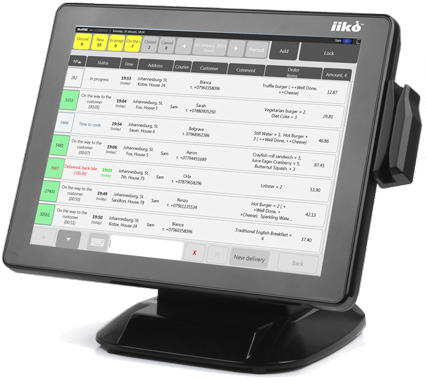 About iiko POS
iiko is a POS solution that serves restaurants and provides a couple of features to enhance the operations. There is the convenience of this POS being cloud-based, making it easy to access remotely. Managing inventory, printing recipes, order taking and staff management are some of the key features that you will get with the POS.
The iiko POS streamlines operations and makes it easier to manage customers and this helps build a better relationship with customers. This is a great solution for those with different floor plans as it allows users to customize floor plans. You can configure meals deals and other offers. For managerial tasks, you can manage the payroll and schedule employees as well as track attendance.
Why Choose iiko POS?
iiko is one of the advanced POS systems and it has a number of useful functions for store managers. It is cloud-based software and you can manage inventory as well as keep track of employees. With the different features, you are able to control the ingredients as well as keep track of the movement of items.
Batch production information can be managed easily and it will allow you to create recipes depending on the size of the item. The main features include balance sheet access, multi-location control, batch management and menu changes schedule among others. You will be able to create customised prices for various menu items.
For food delivery companies, this is also the best POS as it provides future order management, driver tracking as well as open order management. It comes with artificial intelligence, which makes it possible for you to get a sales forecast report. There is excellent customer support through email and online assistance.
Final Verdict
iiko POS is POS software that works for all businesses irrespective of their size. The software is mainly designed to serve the hospitality industry. While some businesses are still sceptical to try it out due to the fact it is still new, there is no harm in trying. It comes with monthly subscriptions and as such, you can opt-out at any time. Over and above, it is a perfect solution and worth trying.