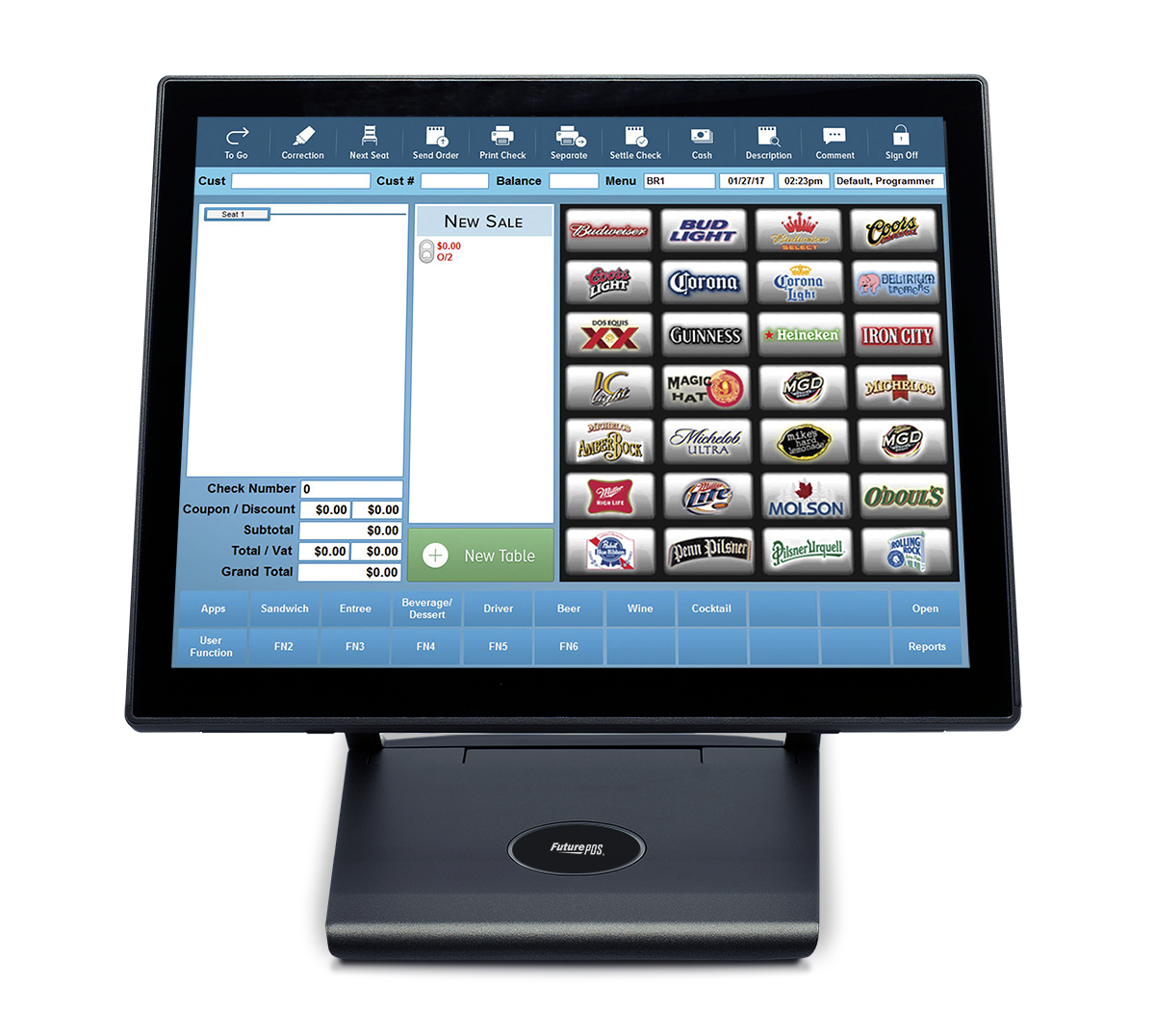 About Future POS
Launched back in 1998, Future POS is one of the oldest and most mature ePOS systems available to date. This large financial software company has a wealth of knowledge in their field and is able to fit into any business size, with multiple features that can be customized for each individual need. Their customer service is also top-notch, with representatives available at any time through their live chat or by calling.
Until recently, Future POS was only available on Windows-based computers, but they have since expanded to include Linux and Apple operating systems as well. The ePOS system is fully integrated with QuickBooks and offers a large number of ePOS customization options for each individual need. Their pricing plans range from simple single point-of-sale devices all the way up to state-of-the-art ePOS systems with the ability to connect your system directly to your online store. This is a modern touch-screen ePOS system with an easy-to-use interface and is a great option for almost any business type.
Some people may see the price of Future POS as a downside to this ePOS system, but the truth is that they do offer some of the most affordable options available in their field. This company has been around for almost 20 years now,  and this has allowed them to perfect their software and keep prices low while still maintaining a very high quality of service.
Unfortunately, one major downside to Future POS is that it does not offer the ability to run reports on your sales that are printable or exportable in a PDF format. This can make it slightly difficult for some businesses to track. Let us look at this platform in detail.
Why Choose Future POS?
Scalable
Designed for businesses of all sizes, and is scalable to grow with you. Whether your business is a small retail shop or a large restaurant complex, Future POS will scale well and give you the features that you need now as well as those that you can add later as you are able to afford them. - Modular, feature-rich software at a very affordable price. Future POS was designed to make business ownership easier, and not break the bank.
Easy to use Interface
Future POS has a very easy-to-use graphical interface with slick icons and graphics, allowing you to run the software in no time. It is designed for users of all experience levels; any customer can pick it up and start using it without hassle. All the on-screen tips and help buttons are always active, so you can quickly obtain information about a selected item or function. Easily find what you need without an instruction manual.
Powerful Reports And Analysis Tools
Future POS has powerful analysis tools built in that allow you to easily see sales patterns, customer information, employee performance, and more at a quick glance. All of your data is displayed in clear graphics that can be printed out or exported to a spreadsheet for further analysis. Click here for sample reports and here for screenshots. This helps keep track of your business performance.
Excellent Support
Future POS is excellent software that works well, but you may run into a problem or two. That is why they have trained support staff available to help you with any issue, big or small. The company provides phone and email technical support 24/7 for your convenience and peace of mind. Most issues can be resolved quickly by the customer support team.
Plans and Pricing and our Verdict
Future POS Plans and Pricing
Similar to most ePOS platforms, Future POS offers packages that are tailored to suit your needs. You will specify the functions that you are looking for and this should make it easier to get a suitable plan. The pricing and plans are mainly influenced by the software and hardware requirements.
Our Verdict
Future POS is a good system but could use some updating. It is a comprehensive system that serves the hospitality industry. It is easy to use and has a straightforward layout for the management screens. It offers good connectivity with other systems such as Payroll, CRM, and Controllers. It can be accessed locally or remotely via its cloud-based server.
The system would benefit from an easier way of controlling prices on items that are subject to discounts in order to help prevent overcharging. The system also needs a cloud-based app for sales staff so that more functionality can be achieved on the move. Future POS offers very little chance of error in reporting and has comprehensive reporting capability.