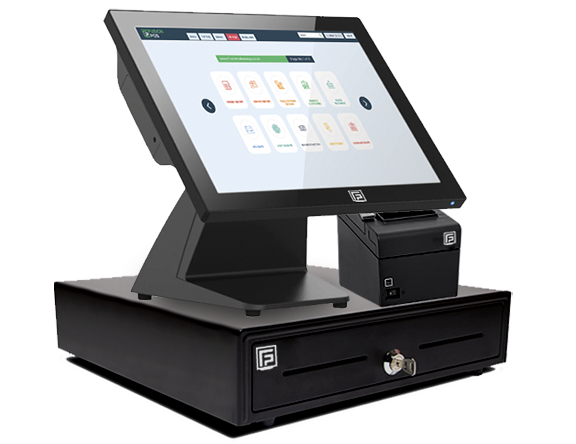 About FusionPOS
FusionPOS is an all-in-one cloud-based point-of-sale (POS) system that offers unique EPOS solutions to restaurants and takeaways. It allows you to manage orders, drivers, reports, receipts, and menus from a single interference and with remote access. You can manage multiple outlets with a single account without needing to have multiple systems. This user-friendly solution allows you to enable or disable any features of the software with just a few clicks. 
Why Choose FusionPOS?
Integrate Payments
FusionPOS combines point-of-sale and online payment processing, allowing you to connect your website or mobile app with Apple Pay, Google Pay, Paylink, credit cards, Card over phone, and other online payment gateways. It means that you can manage orders and process payments from the same system.
Integrate CRM
With FusionPOS, you can ensure enhanced customer relationship management (CRM) as it offers advanced CRM features, including seamless ordering, pre-ordering, easy delivery tracking, menu customization, and fast payment processing. It also allows you to constantly manage your chefs and other staff, track performance, and delivery management with ease.
Customer Engagement
FusionPOS allows you to customize your menu based on the customer's buying history, location, and other useful insights. You can also send SMS notifications to the customers when the orders are received via phone. Moreover, you can use the customers' database to scale your business and reach them via SMS or email.
FusionPOS overview
How Does FusionPOS work?
You can remotely operate the EPOS system from anywhere. All you need to have is a stable internet connection and a computer, tablet, or smartphone to operate your operations with FusionPOS. 
You can either integrate FusionPOS online ordering solutions with the company's EPOS system or use it as a standalone solution. No matter what method you prefer, you'll have real-time access to monitor when a customer places an order with your restaurant. You can then accept the order and deliver it in a dedicated time window. 
The EPOS system offers a range of reporting features to allow you to monitor your most sold items, sales performances, and other useful insights. The package also offers a make-line screen, customer screen, and driver screen, so you can monitor your chefs, orders, and drivers with an all-in-one touch screen.  
Why Use FusionPOS?
FusionPOS is an easy-to-use and cloud-based software that allows you to process and store all your data online. It's a user-friendly and budget-friendly option for managing your business operation more efficiently and effectively. 
Along with a range of other unique features, FusionPOS offers a zero-commission policy and contactless payment option. You can manage online ordering with the EPOS without paying any commission. With the FusionPOS Card Terminal machine, your customers can make contactless payments which not only improve the customer experience but streamline your operations as well. 
Who is FusionPOS Ideal For?
The FusionPOS software is an all-in-one solution for restaurants and takeaway businesses of all sizes. Whether you are a small-size takeaway looking for an integrated EPOS or a pizza branch looking for a standalone EPOS system, FusionPOS serves all your needs.
The EPOS system is designed to help you manage your inventory, food ordering, staff, and drivers more effectively. You can use it to store your customers' data, financial records, product sales, and stock levels to make more informed decisions and improve your sales. You can use customers' data and buying patterns to run special campaigns, customize your menu, and create special offers.